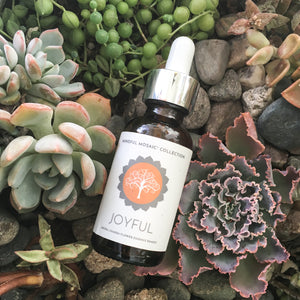 JOYFUL - Sacral Chakra Flower Essence Remedy
Sale price Price $29.50 Regular price
INCREASE JOY, PLEASURE AND CREATIVITY
A healing blend of Hibiscus, Wild Iris, Pomegranate, and Indian Paintbrush flower essences.
Hibiscus energizes the second chakra, undoing blockages in the lower back and spine, and healing reproductive ailments, including infertility problems, frigidity or lack of feeling. The flower remedy assists in releasing pent up creative forces within the womb and literally sets one free to dance again in life. The essence stimulates sexuality and passion.
Wild Iris is known as the 'Paintbrush to the Soul' and is connected to the 'Rainbow Goddess' Iris. It promotes healing when feeling dried up. Iris moistens the hardened aspects of the soul such as stagnation and procrastination. The essence enables one to find a harmonious flow of self-expression. 
Pomegranate is a symbol of fertility, Pomegranate flower essence restores self-nurturing and regenerates fertility on all levels. This flower remedy helps to identify long-buried emotional needs, especially in relation to the mother, childbearing and creative issues.
Indian Paintbrush flower essence is for those who engage in highly creative work. For one with a tendency toward low vitality and exhaustion, difficulty in rousing physical forces to sustain the intensity of creative work, and inability to bring creative forces in to physical expression.
Use: 1⁄2 dropper under tongue four times a day
Ingredients: Water, Brandy (40% Alcohol), Infusion of Hibiscus, Wild Iris, Pomegranate and Indian Paintbrush