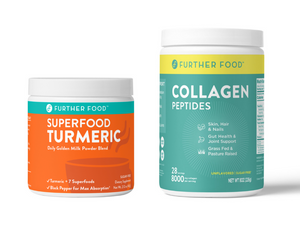 "Anti-Inflammatory" Bundle (Auto-Ship)
Sale price Price $52.98 Regular price
Auto-ship once a month
After your purchase, please call our office at (212) 245-3129 to put your credit card on file for auto-pay if it is not already.
Included:
1 Collagen Peptides
1 Superfood Turmeric
SUPERFOOD TURMERIC:
A delicious blend of organic turmeric, adaptogenic herbs and superfoods amps up the taste and nutrition of your recipes, plus provides daily anti-inflammation support.
Organic anti-inflammatory turmeric boosted with 7 powerful superfoods and adaptogens 
Promotes daily anti-inflammatory support +
May help reduce joint pain & relieve gut inflammation +
Natural immunity booster +
Maximum absorption and high bioavailability from black pepper
COLLAGEN PEPTIDES:
Look and feel your best with Further Food Collagen Peptides – daily use can reduce wrinkles, increase skin moisture, help strengthen hair and nails, while also supporting gut health and joint and bone health.*
Our collagen protein powder quickly dissolves (with no flavor, smell or gelling) and can be added to your favorite beverages or meals. Just scoop, mix, and go further!
Grass-fed, Pasture-raised, Non-GMO, Kosher, Gluten-free, Paleo, Keto
Ingredients: 
100% South American Pasture Raised Bovine Hide Collagen Peptides.
Does not contain milk, tree nuts, gluten, peanuts, soy, egg, fish. Made in a facility that also processes milk, tree nuts, gluten, peanuts, soy, egg, fish.
*These statements have not been evaluated by the Food and Drug Administration. This product is not intended to diagnose, treat, cure, or prevent any disease.