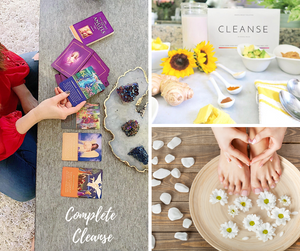 Complete Cleanse
Sale price Price $515.00 Regular price
Start your new year cleansing mind, body AND soul with our Complete Cleanse Package!
Here's what's included: 
Sometimes we just need a fresh start - especially when it comes to the beginning of a new DECADE! Cleansing used to just mean shedding a few pounds and feeling a little bit better, but our cleanse is designed to teach you how to NOURISH yourself from the inside out. 
This package addresses not just the physical, but also the emotional component of cleansing. From the physical perspective - our 14-Day Chakra Cleanse helps detox and strengthen your digestive and immune systems while boosting energy, improving mood and focus, and balancing your chakras!

The one-on-one Chakra Session addresses "cleansing" from an emotional standpoint. This is the perfect opportunity to take a deep dive into obstacles that might be holding you back and discuss practices to clear them. Feel more grounded and emotionally balanced, as well as connected to your body and your inner wisdom.

Lastly (but SUPER important) to this package is our Ionic Foot Detox - which helps restore the body's balance and energy levels by gently removing toxins through exposure to an ion field. Potential toxins can range from impurities in the air, to chemicals in your home and beauty products.

So — are you ready to start 2020 as the best, most clear and healthiest version of YOU!?
Please schedule your Chakra One on One session and Ionic Foot Detox after purchase by calling our office at (212) 245-3129.