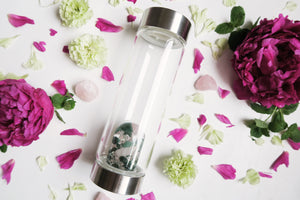 Love Water - Heart Chakra Crystal Water Bottle
Sale price Price $98.00 Regular price $0.00
This beautiful bottle was created just for Mindful Health Gives to honor the mission of the organization which is to provide free retreats to caregivers. The stones selected benefit the mind, body, and spirit, creating a feeling of ease, compassion and hope. Everything one needs to heal. Aventurine has been used for centuries for it's regenerative and reviving purposes. Rose quartz fosters love, tranquility, and harmony. Clear Quartz awakens the spirit and brings clarity while improving health and balance.
Fill this bottle with water and wait for seven minutes, after which time your drink will absorb the soothing benefits of Aventurine, Clear Quartz, and Rose Quartz.
Manufactured in the EU using lead-free bohemian glass and fair-traded, conflict-free gemstones.