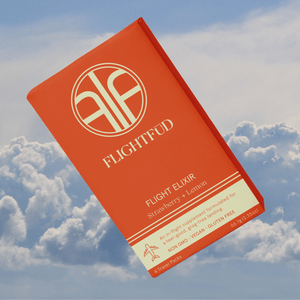 Inflight Elixir (Strawberry Lemonade)
Sale price Price $32.00 Regular price
Inflight Elixir is the superfood drink mix for frequent flyers and those on the go. 
Drink your way to your healthiest flight with a megadose of travel-supporting ingredients:
Coconut Water Crystals to restore and enhance hydration

Gogi, Beet Root + Black Pepper to support circulation and swelling

Tart Cherry Juice to support the circadian rhythm to reduce jet lag and travel fatigue

Papaya Powder to improve digestion
Elderberry + Astragalus to boost immune system and prevent or reduce cold and flu symptoms
Pycnogenol (tradmark name for French maritime pine bark extract) to manage jet lag and reduce lower leg swelling known as edema
HOW TO USE INFLIGHT ELIXIR
When flying, mix one travel pack into as much or as little of water as you like (flavor will be stronger in less water and subtle is more water). Shake instead of stirring.
Sit back, sip, and enjoy your flight.
For optimal results and absorption, we recommend drinking:
1 pack before your flight

1 pack for every 4 hours of flying

1 pack within a few hours of landing.
Each box contains 8 individual travel packs of Inflight Elixir and is suitable for a total of 24 hours of flying!
INGREDIENTS

Coconut Water Powder, Inulin, Tart Cherry Powder, Papaya Powder, Natural Strawberry Flavor, Goji Berry Powder, Beet Root Juice Powder, Citric Acid, Natural Lemon Flavor, Elderberry Extract, Sodium Bicarbonate, Silicon Dioxide, Monk Fruit Extract, Sodium Ascorbate, Glutathione, Pycnogenol (40 mg), Astragalus Powder, Black Pepper Extract (95% piperine).