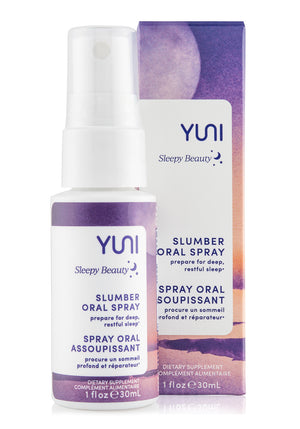 Slumber Oral Spray
Sale price Price $19.00 Regular price
Treat yourself to a soothing spritz of this natural "nightcap."
Slumber Oral Spray is a dietary supplement to enhance your bedtime ritual. The calming cocktail blends Melatonin, GABA, L-Tryptophan, L-Theanine, Valerian Root, Ashwaghanda Root, and Chamomile - seven potent, naturally occurring ingredients selected to help mellow the day away to set the tone for a great night's sleep.
*BENEFITS*
YUNI Sleepy Beauty Slumber Oral Spray is designed to help calm the mind and senses for: Faster, easier transition to sleep Deeper, more restful sleep Reduced sleep disruptions to enhance sleep quality
Additionally, Slumber Oral Spray is formulated with: Plant-based ingredients.
All natural flavor.
Vegan.
Cruelty-free.
Spray form – so you can easily dose between 1-4 sprays to see what's most effective for you.
Made in United States of America