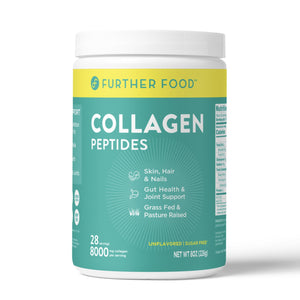 Collagen Peptides
Sale price Price $24.99 Regular price
Further Food Collagen Peptides Protein Powder:
Look and feel your best with Further Food Collagen Peptides – daily use can reduce wrinkles, increase skin moisture, help strengthen hair and nails, while also supporting gut health and joint and bone health.*  Our collagen protein powder quickly dissolves (with no flavor, smell or gelling) and can be added to your favorite beverages or meals. Just scoop, mix, and go further!
Grass-fed, Pasture-raised, Non-GMO, Kosher, Gluten-free, Paleo, Keto
HAIR, SKIN, and NAILS
Daily use of our Collagen Peptides may reduce wrinkles, increase skin elasticity, hide cellulite marks and stretch marks. Collagen peptides have been shown to help support stronger hair, nails and teeth.*
INCREASED FULLNESS
Studies show that collagen protein is 40% more satiating than whey, soy, or casein protein. Collagen protein can keep you feeling full, longer, helping to prevent cravings.*
GUT HEALTH
Our Collagen Peptides may help reduce gut inflammation and aid in digestion. Studies show that the amino acids in collagen peptides help to repair intestinal lining and can help heal leaky gut and other gastrointestinal/gut issues.*
HEALTHY JOINTS
Supplementing with collagen has been shown to strengthen bones, joints, and ligaments. Numerous studies show that daily collagen use may help reduce joint pain and stiffness.*
HEALTHY MUSCLES
Further Food Collagen contains 18 amino acids and 8 of the 9 essential amino acids. Collagen protein may be effective in helping to maintain lean body mass, aid in muscle repair and recovery, and injury prevention.*
Nutritional Information & Ingredients
Nutritional Information for the 8oz Jar: 
 Nutritional Information for the 24oz Jar: 
 AMINO ACIDS PROFILE
Amounts per Serving
| | | | |
| --- | --- | --- | --- |
| Alanine | 672 mg | Leucine* | 208 mg |
| Arginine | 616 mg | Lysine* | 264 mg |
| Aspartic Acid | 360 mg | Methionine* | 72 mg |
| Glutamic Acid | 800 mg | Phenylalanine* | 128 mg |
| Glycine | 1,864 mg | Proline | 1,096 mg |
| Histidine* | 72 mg | Serine | 272 mg |
| Hydroxylysine | 120 mg | Threonine* | 152 mg |
| Hydroxyproline | 984 mg | Tyrosine | 48 mg |
| Isoleucine* | 96 mg | Valine* | 176 mg |
*Essential Amino Acids 
Ingredient: 
100% South American Pasture Raised Bovine Hide Collagen Peptides.
Take one or two scoops of Further Food Collagen per day. Mix Collagen into coffee, tea, smoothies, soups or any other recipes. Stir thoroughly.
Does not contain milk, tree nuts, gluten, peanuts, soy, egg, fish. Made in a facility that also processes milk, tree nuts, gluten, peanuts, soy, egg, fish.
*These statements have not been evaluated by the Food and Drug Administration. This product is not intended to diagnose, treat, cure, or prevent any disease.