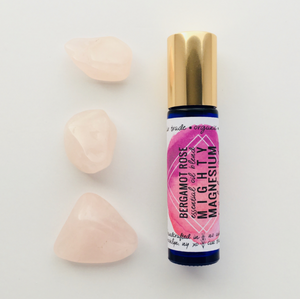 Magnesium Oil Roll On - Bergamot Rose Quartz
Sale price Price $24.00 Regular price
Magnesium Oil will help you relax, stress less, calm, and sleep when you need it. Use in your daily self-care routine, as a naturally relaxing fragrance and 30 minutes before bed for restful sleep.
Rose Quartz is known as the LOVE stone, the stone of the HEART CHAKRA.
*Please note: rose quartz is a natural stone, color may vary.
Certified Cruelty Free and Vegan by PETA Made with Organic + Ethical Ingredients